Publications
Technical Publications:
"Introduction to Pipe Stress Analysis" book published by John Wiley, NY1985

Developed stress analysis software EZFLEX and LIFEST

"Eliminate impact testing for some piping applications" for cold Temperature applications

"Structural integrity of integral pipe supports with increased corrosion allowance"

"Structural analysis of space craft electronic packages" ASME March 1992

"Deterministic and Probabilistic flaw evaluation comparison for remaining life estimation"
The Journey of Man
ABSTRACT FOR RIVER GRID IN INDIA
---
Sockalingam (Sam) Kannappan P.E.
Sam.kannappan@gmail.com
Presented on January 10, 2002

Water shortage exists in the rivers in southern India and surplus water drains in to sea from the Rivers in Northern India. Hon. K.L. Rao, Union Minister of Government of India has published detailed design with cost estimates for connecting the rivers by canals running from north to south and of garland design.

Technical challenges are many. This is project of mega size and many serious challenges will emerge. But the determination to provide the humanity the basic need namely water will overcome the challenges. Some of the identified challenges are: 1. Evaporation loss in open channel transfer of water. 2. Gradient or elevation differences which may be again at natural water flow 3. Energy cost associated with lifting water to a higher elevation at specified locations. 4. Crossing mountainous regions with open channel or using large diameter pipes or tunneling.
---
How to determine allowable steam turbine piping loads
Dynamic Analysis of Water Hammer Loads
Introduction to Pipe Stress Analysis
How to help Family: Cremation problem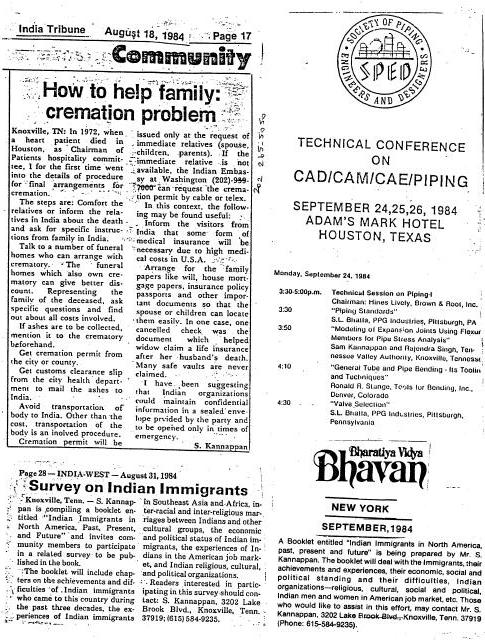 An Evening with Dr.E.C.G.Sudarshan
TO BE IN THE TRAFFIC OR NOT TO BE: